About Us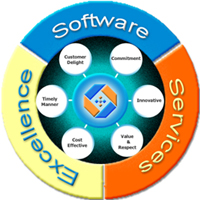 Readysoft is a pioneer in providing Global consulting and IT services for Lowest Total Cost of Ownership, offering a wide range of solutions customized for a range of key verticals and horizontals. Readysoft inhabit the entire IT space, from strategy consulting right to implementing IT Solutions for customers. It has excellent domain expertise in verticals such as, but not limited to, Retail, Automotive, Banking & Financial Services, Insurance & Healthcare, Manufacturing, Semiconductor software development, Construction, ERP and BPO sectors.

As a diverse end-to-end IT solutions / services provider, Readysoft offers a range of services aimed at helping our customers in development, maintenance, re-engineer, re-invent, software quality assurance, and evaluating right software for their business needs to compete successfully in an ever-changing marketplace. We also build solutions that are Organization Specific, leveraged across the client organization, enabling our clients to increase business agility, rationalize redundancies, and achieve economies of scale.


Our unique Xtreme Delivery Model (XDM) allows us to leverage local competencies, rationalize operational overheads and continue mission critical operations of our customers, even in the most challenging of times. Thus Readysoft is able to offer global competitiveness to our customers at Lowest Total Cost of Ownership.

Our consulting and IT solutions have resulted in technology-intensive transformations that have met the most stringent of international quality standards (IQS).

Mission
---
To become one of the Best Quality and Cost-Effective IT services / solutions provider in the world
Vision
---
Readysoft believes its true strength lies in the potential of its Employees. Employees work in an atmosphere of trust and confidence. Every ReadSoftian is a leader. This leadership is expressed in the way tasks are assigned and taken up, the freedom with which work styles are negotiated and high standards of quality set independently by each and every employee. A high degree of operational freedom helps employees exercise their creativity and expertise in approaching tasks and achieving Organization Goals: